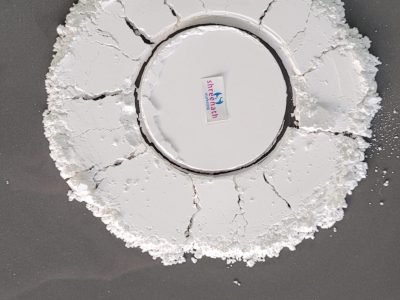 Product Information
Synthetic Grade Zeolites (Hydrated Alumino Sodium Silicates) is alkaline material,
The pore size for Zeolite 5A is about 5Ao. It can absorb all kinds of molecular
smaller than this size; it is mainly used in separation of the normal and isomerous
alkane, pressure swing adsorption (PSA) for gases, co-adsorption of moisture and
carbon dioxide. Based on the industrial application specialties, All these
advantages have made it come to be the most essential and necessary desiccant
in the fields of the deep drying, refinery, polymerization for cracked gases,
ethylene, propylene and any other non-acidic gases or liquids in petroleum and
chemical industries.
We are manufacturer and supplier of Zeolite-5A Powder for Industrial gases & liquids drying, separation, purification and removal process. Zeolites-5A are widely used as ion-exchange beds in domestic and commercial water purification, softening, and other applications. In chemistry, zeolites are used to separate molecules (only molecules of certain sizes and shapes can pass through), and as traps for molecules so they can be analyzed. Natural zeolite is a new and very good natural filter medium available for the filtration of water. It offers superior performance to sand and carbon filters, giving purer water and higher throughput rates with less maintenance required. It has many advantages over sand and can be used to directly replace sand in a normal sand filter. There are three main uses of zeolites in industry: catalysis, gas separation and ion exchange.
Formula:  x(Na2O)·y(Al2O3)·z(SiO2)·w(H2O)
Aperture:  5A
CHARACTERISTICS OF ZEOLITES:
 White powder insoluble in water.
 Crystalline structure.
 Excellent ion-binding properties on aqueous medium.
 High capacity for the Gas absorption and separation.
 Good effectiveness, even at low dosages.
 Not harmful to human beings or the environment.
 Environment friendly product..
Our prominent clients belong to the following industries:
P.V.C Industries
Metal Industries
petrochemical Processing Industries.
chemical reaction agent in chemical Industries
water treatment chemical Industries
Catalyst Industries
Zeolite-5A is used by our clients for following applications:
Crystalline structure work as molecular sieve.
Separation processes in petrochemical manufacturing.
Use as moisture/ humidity absorber, transport of liquids (such as oils or surfactants).
Use as Thermal and heat insulator in glass sheets
application of these products is in natural gas treatment (desiccation,deacidification),drying of solvents and gas streams, double glazing,purification of hydrogen and oxygen
Gas Adsorption and separation (3A,4A,5A,13X).
Crude Oil distillation.
Catalyst converter
Pollution reducing agent.
Selective ion exchange, replacing their cations (generally, sodium) with others such as
calcium and magnesium (that cause water hardness), zeolite reducing water hardness in earth.
Raw material of activated molecular sieve powder-3A.
Automotive emission control
Industrial flue gas purification
Odor removal from plastic compounds and masterbatches
Processing of chemicals and fine-chemicals
Production of fuels from renewable sources
Production of petrochemical intermediates
Heat management
Separation of normal and isomeric hydrocarbons.
Natural Gas drying, Purification.
Liquefied petroleum gas sweetening.
Separation of aromatics.
Solvent drying, purification.
Carbon dioxide removed from natural gas.
Oil purification
Purification of Polymer plant feed
Purification of kerosene and jet fuel
Purification of air in insulated windows (double windows)
Zeolite use in Paper Industry as fillers to improve the optical properties, bulkiness and printability of paper
Zeolite use in Paint Industry to enhances optical brightness
Zeolite Use as an additive in poultry, cattle and shrimp feed.
We offer to our valuable Client:
Modifying our standard zeolite powders as per customer requirements
 Scaling up your laboratory-scale zeolite recipe to commercial production
 Developing and producing zeolites that meet your needs for entirely new
applications
Shreenath Marketing zeolite specialists provide comprehensive technical support in selecting, modifying, developing, and incorporating the optimal zeolite into a diverse range of applications. During a custom research project, we follow a rigorous protocol to maintain confidentiality and to protect our customers' intellectual property. Our Internal team makes sure all project information remains confidential.
We transport the product in following packaging options:
10 kg, 25 kg, 50 kg, 600 kg, 1000 kg P.P water proof bag
 100-120 Kg P.P/M.S vacuum Drums
 Full Truck Load
 IBC Tanks
Bulk Shipping (container)
ZEOLITE-5A PHOTOS:
For more information regarding the product please contact our sales department. Please filling product requirement form and submits online.