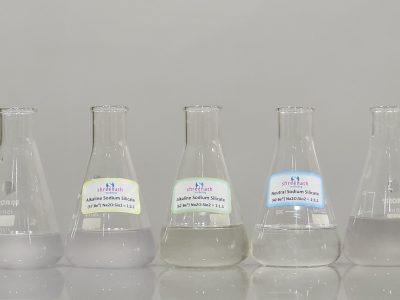 Sodium Silicate Liquid
We offer sodium silicate in liquid form for specific industrial application where the liquid property of the chemical is highly effective. We manufacture high quality silicates that are produced to match our customer's expectations. For special requirements, we customize the liquid so that it can be integrated with highest efficacy with the products of our clients.
We produces the following grade of Liquid silicates:
Liquid sodium silicate physical and commercial properties.
| | |
| --- | --- |
| Chemical Formulae | Na2O x SiO2 |
| Appearance | Liquid |
| Colour | Light Yellow liquid |
| Molecular Weight | 184 – 254 |
Sales Specification :
ALKLINE LIQUID RATIO:2.0-2.2
Be°
48° – 52°
52° – 58°
55° – 58°
58° – 60°
60° – 62°
Na2°%
13 – 14%
14 -16%
16 -18%
18 -20 %
20 – 22 %
Sio2%
28 – 30.5%
30.5 -34%
34.5 – 38%
39 – 42%
42.5 -46.5%
TDS
41 – 44.5%
44.5 – 5.%
50.5 – 56%
57 -62%
62 – 69%
W.R.
1:2.0 – 2.2
Sq.Gr.
1.4950 – 1.5591
1.5591 – 1.6111
1.6111 – 1.6667
1.6667 – 1.7059
1.7059 – 1.7470
Our clients use the sodium silicate liquid for manufacturing following products
Detergent / Cleaning Compounds
Pulp and Paper
Paper Board
Building Products / Construction
Textiles
Ceramics
Petroleum Processing
Metals
We offer the product for transportation in following packages
Packing :
285-300 Kgs MS Drums
Full Tanker Load, Flexi Bags
IBC Tanks
Bulk Shipping