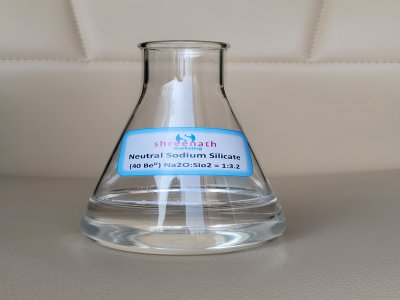 Neutral Sodium Silicate Liquid
Sodium silicate is also the technical and common name for a mixture of such compounds, chiefly the metasilicate, the commercial product available in water solution or in solid form, very good in transparent visibility also called water glass, or liquid glass. The product has a wide variety of uses, including the formulation of Cement, passive fire protection, textile and lumber processing,
manufacture of ceramics as adhesives, and in the production of silica gel.
Production of precipitated silica, corrugated box manufacturing Industries, Paper and Pulp Industries. Adhesive manufacturing industries. Concrete and general masonry treatment for quick bonding, cement formulation, Food Industries, water treatment chemical manufacturing, Bonding agent in Paint industries, zeolite powder manufacturing industries. Petroleum Processing Industries, Soil Grouting, Silica & Allied Chemicals.
Ratio of neutral sodium silicate glass is Na2o: Sio2 = 1:3.2 (+/- 2 %)
Shreenat is leading manufacturer in sodium silicate base products, shreenath produce sodium silicate glass in high efficient furnaces with his own technology to serve qualitative products in many different Industries.
Neutral Sodium Silicate Liquid is produced by dissolving Neutral sodium silicate Lumps with water at 128°C Temperature and 2.5 kg/cm2 pressure or by hydrothermal process which is produced by reacting caustic lye and fine crystalline silica in autoclaves under intense pressure.
Neutral Sodium Silicate Liquid Specification :
NEUTRAL SODIUM SILICATE GALSS LIQUID SPECIFICATION
RATIO (Na20 : SiO2) = 1 : 3.2 (+/- 2%)
Be°
30°
31°
32°
33°
34°
35°
36°
Na2o
6.360
6.500
6.75
6.96
7.15
7.42
8.11
Sio2
20.670
21.150
21.95
22.63
23.28
24.13
26.43
TDS
27.000
27.650
28.70
29.56
30.40
31.50
34.52
Weight Ratio (Na2o: sio2)
3.250
3.252
3.251
3.251
3.255
3.252
3.258
Sp.Gr.
1.2620
1.2735
1.2852
1.2976
1.3105
1.3202
1.3455
| Description | Specification |
| --- | --- |
| Physical State | Thick liquid |
| Appearance | Clear Liquid |
| color | Colorless, Transparent |
| Total Solid (%) | 30 to 55 |
| Weight Ratio (Na2o: sio2) | 1:3.2 to 1:3.9 |
| P.H | 12-13 |
| Specific Gravity (Density) | 1.30 to 1.50 |
| Stability and reactivity | Stable at Normal pressure and temperature |
| Melting Point | Not applicable. |
| Boiling Point (C°) | 101.5 – 102 |
| Water soluble (%) | 100 |
| Freezing point (C°) | -1° |
| Evaporation Temperature (C°) | Not applicable |
| Vapor pressure | Not applicable |
| Vapor density | Not applicable |
| Molecular formula | (Na2O)x · (SiO2)y · H2O |
We transport the product in following packaging options
285-300 Kg M.S Drums
Full Tanker Load
Flexi Bags (50 kgs, 500kgs, 1000 Kgs.)
IBC Tanks
Bulk Shipping (container)